Just install the sensor in your mailbox, connect the receiver to the serial port of your Unix box, and filter the logfiles with something like swatch to trigger an audible beep.
I designed and built this thing as my first serious RF transmission project. Working on weekends and holidays and waiting for parts from Digikey, this took me about 2 months from mid-November 2005 to January 2006.
Technical specifications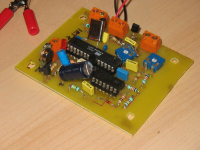 The PCB of the detector/transmitter. The TLP434 module can be seen at the bottom left. This is a double-sided PCB. A big mess due to a bad soldering iron that burned some tracks. Double-side soldering can be difficult.
Transmitter
Mail detector: infrared barrier

Barrier range: 1m

MCU : ATmega8 at 8MHz

Power : 7-20V, 13mA

RF module : Laipac TLP434 433.92MHz ASK

Antenna : 1/4 wavelength dipole

Baud rate : 4608 baud

Bit rate : 4608 bit/s

Line coding : baseband

Total packet length : 1148 bits plus sync and training.

Convolutional code : rate 1/4, constraint length 7

Block code : Hamming (7,4,3)

CRC : 16-bit

Encryption : Symmetrical XTEA , 128-bit key, CBC with 64-bit authentification

Sensor ID : 16-bit

Encrypted payload : 18 bytes

Temperature sensor : LM335Z, 0.48 degree Kelvin resolution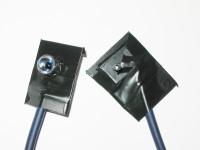 On the left, the IR transmitter LED with its reflector, and on the right, the IR receiver photodiode.
Receiver (hardware)
RF module : Laipac RLP434, SAW version

MCU : AT90S4433 (older version of ATmega8) at 8MHz

Power : 7-20V, 30mA

Antenna : 1/4 wavelength dipole

RS232 tranceiver : MAX232

Baud rate : 57600
Screenshot of the receiver software running on my PC. The sensor is placed in my mailbox 4 stairs below.
Receiver (software)
Functions : synchronization, ECC decoding (Viterbi and table lookup), decryption, parsing, logging.

Language : Objective Caml

CPU requirement : Cyrix 166 or better (i.e., 100 bogomips is enough)
Pictures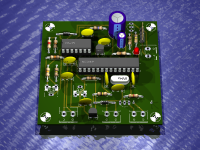 3D preview of the board, generated using a 3D script for Eagle.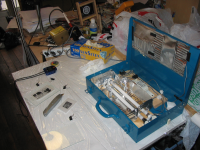 My home-built UV exposure box. Notice the quality workmanship. Hey, it's not worse than the thermal insulation wrapping on the Apollo "lunar" module.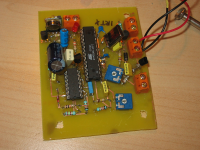 The board. Patched to correct various PCB mistakes.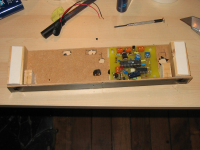 This case will hold the board, the batteries and the antenna, and will be inserted in the mailbox.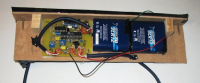 The board, encased and with batteries and wires. Not very pretty, I admit.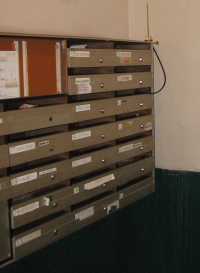 The mailboxes of my previous appartment, in the 11th district of Paris. I temporarily left the antenna outside for testing.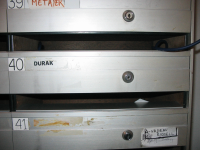 My mailbox.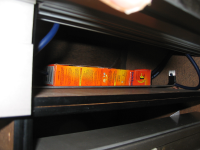 The board is glued to the top of the mailbox and thus can't be seen. The "Uncle Ben's" cardboard box simulates delivered mail. You can see the infrared barrier below it.